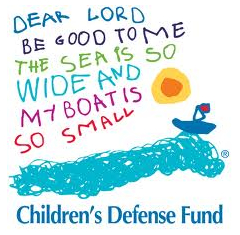 I am excited to announce that this coming week I will be traveling to Cincinnati, Ohio to join 3,000 leading experts, policymakers, practitioners, and faith leaders for the Children's Defense Fund's first national conference since 2003.  We are heeding a call by founder Marian Wright Edelman to "purse justice for children and the poor" in these politically volatile and polarized times.
The goal of this year's conference is to examine strategies to close off major feeding systems fueling the cradle-to-prison pipeline and mass incarceration including: poverty, racial disparities, zero-tolerance school discipline policies, the achievement gap, and child abuse.
About a month ago, Ms. Edelman phoned me at home and asked that I join the conversation by talking about the activist work I am doing through Spare The Kids.  She said she wanted to me to talk specifically about my experience as a child abuse survivor, foster care alumna, and what it was like to grow up in a church where a gospel of violence was preached against children.  We both recognize that faith communities play a significant role in shaping parenting practices and they can be a galvanizing force in helping to combat child abuse in their communities.
When I was a kid I heard the head minister of our church give instructions on how to beat children.  He told the congregants that beating the devil out of us with "a rod of correction" was god's will and parents had a duty to keep their children in line.  So my adoptive mother's rod was a belt, switch, hanger, extension cord, broomstick, her bible, and anything else she could get her hands on.  She believed that her beatings would save me from hellfire, just as her pastor said it would.
The minister also quoted Proverbs 20:30 – "blows and wounds cleanses away evil and beatings purge the innermost parts."  But ultimately, my scars and wounds landed me in foster care and in years of psychological counseling to deal with the trauma.
So this Monday afternoon I will participate on a panel called Safe Sanctuary: Congregations Reaching Out to Vulnerable Children and Families.  The focus of our panel will be to discuss the multiple ways faith communities can extend a hand to vulnerable children and fragile families so fewer children end up in the foster care which has fast become a pipeline into the juvenile justice system.
I plan to pose a series of provocative questions – Are churches sacralizing child abuse?  Are they preaching a gospel of violence against children?  Do preachers help feed children into the foster care and juvenile justice systems when they instruct congregants to beat their children in the name of god?
This morning when I started preparing for my talk I found myself sickened by some of things I came across on the Internet.  I've gathered dozens of headlines documenting how parents severely abused or killed their children in the name of god.  Youtube videos show people spouting off scriptures and ranting about a generation of "bad" children who've gone wild because people aren't beating them.  In many of the stories I've read about children who were killed, the parents said they beat their children with "biblical" whips, sticks, and other weapons because they were following the scriptures or the sermons of their pastors.
Some of the most disturbing endorsements of child abuse come from Christian websites that offer instructional lessons on how to physically discipline children. The titles include: "Godly Tips On How to Beat Your Christian Child," and "Loving Use of the Rod."  And as expected, they all cite Old Testament verses to justify assaulting children.
I will present these examples on Monday, along with some New Testament scriptures that advocate for healthier, non-violent ways to raise children.  I am hoping that those who attend will think about how some congregants and pastors make literal interpretations of the Bible and incorporate them into their child rearing practices with harmful and sometimes deadly results.  But I will also remind people that faith communities have an enormous amount of influence and the potential to help activists, child advocates, and social services workers combat child abuse.
What if more faith leaders asked their congregants to consider the Bible's more inspiring words on parenting, "Fathers, provoke not your children to wrath" (Ephesians 6:4); "Fathers, do not embitter your children, or they will become discouraged" (Colossians 3:21); or "What do you prefer? Shall I come to you with a whip, or in love with a gentle spirit?" (1 Corinthians 4:21).
The burning questions for me remain – are churches willing to step in and provide havens for children who are abused so that they don't end up in foster care?  Are churches willing to stop preaching a gospel of violence and incorporate a faith-based theology of positive discipline?
Faith leaders and churches are doing some wonderful work with struggling families in communities all over the country.  But I want to remind people that sanctuaries cannot extend a hand to vulnerable children, advocate for proper nutrition, education, and other resources that will allow childhood to be a healthy and safe path to productive adulthood and at the same time promote physical violence against young people in the name of god.  Faith leaders must take the lead in standing against people who hide behind scripture to justify abuse of children.
It would be more responsible for faith communities to proactively provide parent training that includes a full range of discipline options that are legally permissible in today's increasingly punitive society where there are too many news headlines of parents being placed in jails for whipping their children over low grades, bed wetting, and other behavioral problems.  The best training, I will argue, should be positive discipline, which will keep parents out of prison and children out of foster care. 
Parents can keep the faith and still raise children humanely!