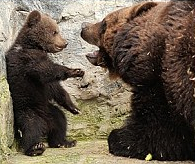 By Stacey Patton, Ph.D.
Sometimes, when I'm watching Animal Planet or Nat Geo TV, I observe the family dynamics of animals in the wild.  More than once I've thought that human parents could learn a lot about disciplining their children from "wild animal" parents.
Animal parents don't have 18 years, plus four years of undergraduate school, to prepare their young for survival and adulthood.  Nor do they have endless "experts" offering parenting advice—everything they do is strictly from instinct.
The true purpose of discipline is not to wound a child, but to teach them.  Let's look at how one Mama Bear approaches this universal challenge without striking her cub. 
This four-photo sequence comes from the British news blog, www.dailymail.co.uk. Check it out: 
Photo 1: Mama Bear picks up Baby Bear by the scruff of his neck (common in mammals) and swings him around.  Obviously, I do not recommend this for human babies.  Shaken baby syndrome, a dangerous and sometimes deadly issue, is no joke.  While this first step might be appropriate for Mama Bear, I think the human version could simply be picking up a child to stop their behavior and making eye contact to focus their attention, and reinforce the parent-child bond.  No swinging or shaking though, please!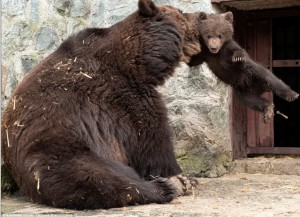 Photo 2: Mama Don't Play That!  She gives Baby Bear the Mad Mama Eye (which is obviously universal), as he looks guilty and sheepish.  Then she backs him into a corner for "time out" and roars her disapproval.  Translation: she has his attention, and she communicates—through touch, expression and voice—that she is displeased.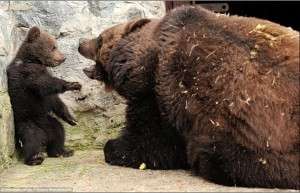 Photo 3: Their mutual gaze speaks volumes.  Clearly, Baby Bear has received and fully understands his mother's lesson: that his behavior was not acceptable and will always have consequences.  Her expression is stern but loving.  His is contrite and apologetic. But he does not show any signs of fearing his mother.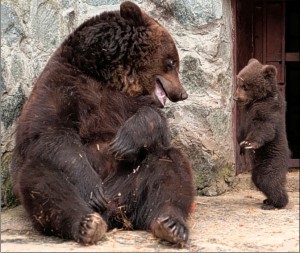 Photo 4: The most important part of the "lesson"—a warm hug to reassure Baby Bear that Mama Bear loves him unconditionally, but does not like, approve of or accept it when he misbehaves.  All is forgiven, and love prevails!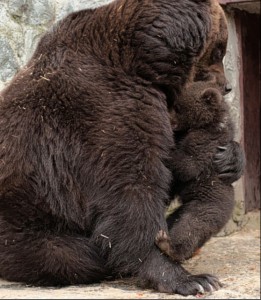 If a bear—a wild animal with "savage" instincts—can effectively discipline her cub without striking him, or harming their bond—why can't humans do the same?  How is it that an animal parent can have more control, more discipline, in expressing its anger, frustration and displeasure to their child, than humans do, and we're supposed to be more civilized?
Maybe it's humans that are less evolved when it comes to dealing with anger at our children.  And maybe we can try the Mama Bear glare-and-hug sequence next time.  All positive discipline literature emphasizes coming down to the child's eye-level to make the connection and impart the lesson.  This is wisdom, straight from nature.