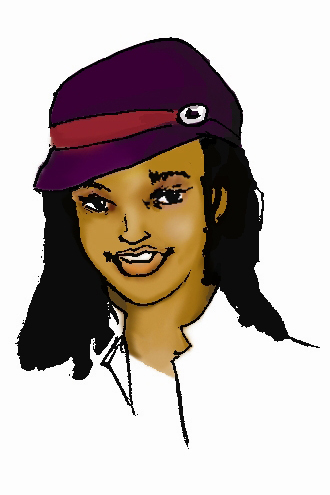 By Dr. Stacey Patton
Creator of Spare The Kids
The criminalization of poor people of color in this country is simply off the chain!  The facts are overwhelming.  The trends are clearly evident.  There's no doubt in this writer's mind that the fabric covering Lady Justice's blinded eyes is actually translucent when one reads the sickening media accounts of the systematic criminalization of black mothers.
First there was the story of Kelley Williams-Bolar, a desperate single black mom from Ohio who was convicted last January by a predominantly white jury and spent ten days in jail for enrolling her children in a better suburban school district that she did not live in.
Then there was Tonya McDowell, a homeless black mother who was arrested for sending her six-year-old child to a public school in an area where they didn't live.  McDowell was charged with first-degree larceny for stealing education from the Norwalk, Connecticut school district. 
And now, here's yet another sickening news story from Cobb County, Georgia about Raquel Nelson who lost her 4-year-old son in a hit-and-run accident, who suffered injuries herself and was then subsequently convicted for vehicular homicide by an all-white jury.  Let me remind you that this story comes on the heels of national outrage over a white single mom's acquittal for murdering her daughter.
Clutch Magazine reports:
A grieving African-American mother in Georgia is facing the potential of more time in prison than the drunk driver who struck and killed her child and then fled the scene.
Raquel Nelson lost her four-year-old son while trying to shuttle him across a five-lane highway, along with two of her other children.  
Jerry Guy — a partially-blind man who has admitted to having consumed alcohol and painkillers beforehand — hit the young boy with his vehicle. The child later died of his injuries. Nelson and her daughter were also struck and suffered injuries.
An all-white jury has convicted Nelson of homicide by vehicle in the second degree, jaywalking and reckless conduct. She could serve up to three years in prison.
David Goldberg of Transportation for America expressed his outrage that the all-white jurors could not seem to place themselves in the shoes of a mother trying to provide essentials for her children while crossing a five-lane highway–which encourages speeding in a mixed-zoned community:
That's right: Because Nelson did not lug her exhausted little ones three-tenths of a mile from the bus stop to a traffic signal in order to cross five lanes of traffic, she is guilty of vehicular homicide. Because she did as her fellow bus riders, who crossed at the same time and place, and because she did what pedestrians will do every time – take the shortest reasonable path – she is guilty of vehicular homicide.
Meanwhile, the drunk driver, Guy — who was previously convicted of two-hit-and-runs in one day in 1997 — was initially charged with hit and run, first-degree homicide by a vehicle and cruelty to children. But the charges were later dropped to simply hit and run. Guy served a six-month jail term and will spend the remainder of his five-year sentence on probation.
I am dismayed that somebody like Casey Anthony can walk free despite all the evidence against her, even if it was circumstantial.  And on top of that she'll spend no time behind bars for her overt negligence in the aftermath of her infant daughter's death (accidental or not) and yet on a daily basis poor black women struggling as best they can with the little resources they have continue to be systematically targeted and unfairly punished by a screwed up criminal justice system that feeds its inertia off the bodies of people of color. 
There is a petition by change.org asking the Cobb County Prosecutor to drop the conviction against Raquel Nelson.  I urge you to click the link below to show your support so this injustice can be fixed!
http://www.change.org/petitions/cobb-county-ga-release-grieving-mother-of-hit-and-run-install-a-crosswalk